Let me ask you, would owning a large email marketing system interest you?
would you like serious email marketing power...
Imagine for a minute you take the middle guy out … you stop dealing with platforms that are bottlenecking you - stopping your messages from getting out.
For years, I struggled getting more and more people in my pipeline, it was like there was a wall blocking me and I could never figure it out.
It wasn't a traffic problem …
It wasn't a email opt-in problem …
It wasn't a conversion problem …
After sitting down and really looking at what was going on – I found that aweber and getresponse had massive throttles on my campaigns.
The dashboard would read 100% delivered, but when looking into the logs only maybe 30% was delivered.
It would read 18% open rate but looking into the logs only maybe 4% was opened.
It was a platform problem!
can you relate to what I am saying here?
The stats you see on these campaigns is not legit! Bottom-line they are lying and that is the truth.
… so I set out on a mission to build my own system.
This has been a 10 year journey, when you are not a big company it takes time and effort to build out a something that can get good delivery.
And being in the data and data feed industry ( secretly ) I've had lists of people coming in daily.
It was a task and a half to build something that worked.
Now, you will see me using different platforms but only for certain applications. I found that when it comes to splitting of the loads, it worked prefectly.
What would it take to build your own platform, properly?
Minimum Required to build out a email system with power:
You need to find a hosting company that will not shut you down for sending a lot of email, even your system sending without the hosting package
A few domains, many IP Address and a system to mask these all at once
Sending System, the actually script or platform that is going to control the emails sending
People think they can send with "hosting" but when you send millions of emails - that won't work properly. You need to have a SMTP RELAYS which are not cheap.
Blacklist monitors, ISP monitors and a system that will handle all the inbound reports from those reporting mediums.
This is just the basics, there is so much more involved...
So, what I built and what I use is now called Klickboost ( mailserver ) and most likely you've been using it in some way or another.
But there comes a time when you need to have your own setup, using my system for a base.
do you want your own
semi-dedicated email platform ?
Note that before we continue here, semi-dedicated means we help and control some of the platform. Allowing you to worry less about what is going on in the background and where all the sending power comes from.
In the hosting world ... people automatically think others are sharing in the pool but that's not the case here!
I guess, we could call it "managed" or "overwatched" but that really does not describe what is going on...
What I am talking about here is, the power to send emails without the "Corporate" oversight of those campaigns. Our team will manage the account making sure everything is going smooth and you just send emails ...

To make money online, you need a list of people interested in buying what you have to offer.
We have developed a unique system that qualifies all our traffic and determines IF they will be a good subscriber.
This means we have the power to either add that visitor to our email list or just send them into a funnel and see what happens. Building us insanely active subscribers, pushing those "tire kickers" to the curb.
This "system" is a direct result of our experience earning over 7 figures continuously, inside affiliate marketing, networking marketing, and CPA campaigns.
As List Building Experts, who don't always allow people into our world, this opportunity gives you a hand-up and a chance to get conversions from your email campaigns.
Now It's Your Turn To Finally Get Some Commission Emails...
Rarely, do you get the opportunity to have someone with high-level experience, actually do all the work for you!
And trust me when I say this, "Others" will tell you they care, but you know ( and have experienced ) that fact they don't.
I've been there, I've bought those programs and seen how crappy they really are. In no way are they built to help you ... but this is different.
It's simple, the fact that my system is used by me personally, to drive sales daily - proves the fact - there is priceless value.
Truth is ...
There isn't a single "Solo-Ad" service, which offers this type of value!
All From The Same Traffic Used In Our Service
Problem is ... Most will not believe me!
GURU's tell people it's easy to make money and building a list is 1,2,3, money.
Which is simply just not true, it's Extremely Hard ...
Otherwise, you would just grab some traffic and send out those emails ... all while watching your bank account grow faster and faster.
They tell you to buy solo ads, or join their "premium traffic co-op" ...
Guaranteeing you those 80% sign-ups or your money back.
Here's the first fact, all of the "Solo Ad" industry is currently plagued with injection scripts and fake emails.
When you see those 50 - 80% optin's rates and NO OPENS OR SALES!
That my friend, is why ... and it's only getting worse!
All our traffic sources are pushed into a "unique system", which has been developed over many years of driving traffic to online products and spending unheard of amounts of money.
My exact "formula" will never be released, you may see some parts of it in action, but the actual "systemized formula" is something I can't allow many to know about!
Straight to the point, we have traffic from everywhere - and they have without a doubt bought a product within the niche we are targeting.
Note that we target only ... MLM, Biz Opp, Affiliate Marketing, Weight Loss and Make Money Online.
Our other traffic sources are designed to build lists in different niches, but those lists of traffic are not available in this package ... ( for now ).
No Experience, No Products, Prior Success Not Required!
No Email Manager - No Problem! Your purchase will include access to our mailer with the semi-dedicated mailing smtp server.
No Products to sell or Program to promoter - No Problem! Inside Earn Avenue you'll have access to training and information on where to find these products.
Never seen a single commission online - No Problem! Your lack of direction and courage from the past will be gone.
This platform was built for BULK MAILING, allowing you to cold email without getting your accounts closed. We show you how to push traffic around and get them on to your external email platforms and funnels ( sales processes ).

MailServer 2.0
Private Email Manager System est. value $3,250
* The video is used for example purpose, the mailer you will have access too is seperate and dedicated to this package
- You will have full access to our MailServer 2.0 platform, which uses SMTP relays to send an email, unlike other in-house platforms that only send via hosting.
- The package will come with a daily sending qouta, that is the only sending capacity limit that you will have.
- Your account is seperate from all other accounts making it semi-dedicated from the server loads.
- We will overwatch your account, making sure it gets good delivery and that your subscribers are holding good numbers.
You will have a complete training section, helping you understand how to use this without any problems.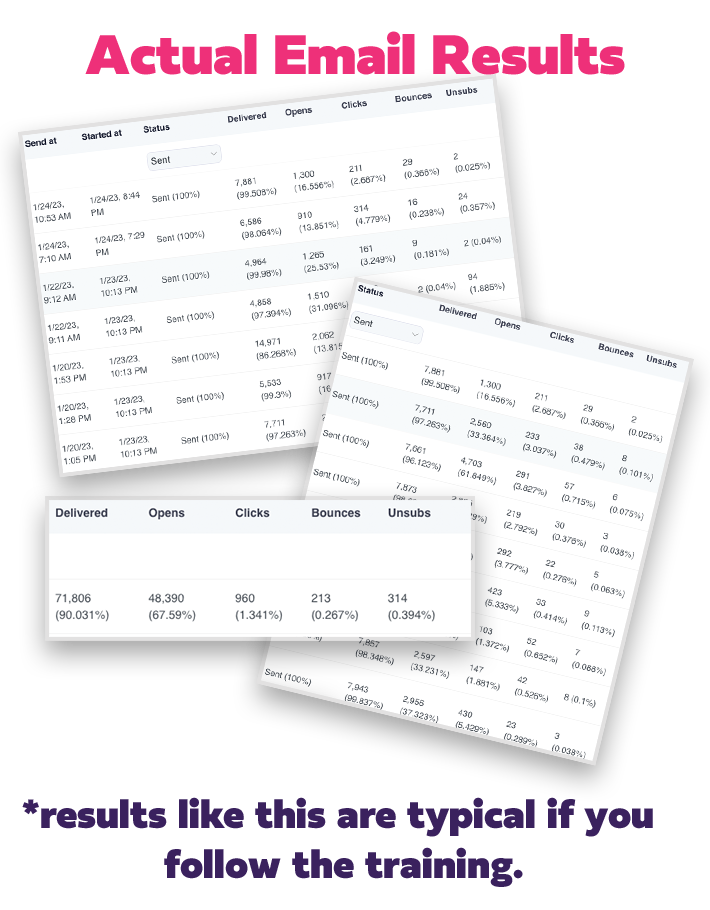 Account Loaded with Email Subscribers
est. cost $1.05 per subscriber
We will drive traffic through our systems, from premium top-tier sources. They will generate the subscribers, automatically add them to your account within our mail platform. The lead is vetted and cleaned within the system itself, before being sent to your email manager. These leads are 100% interested in your emails and want to receive them.
Additional Add-On No Charge: If we see that your list is not getting "decent" opens, we will refresh that list.

EarnStack System
Funnel System and Traffic est. value $5,000
We are going to continue growing and expanding this service inside the platform, as we see more things and features that should be added.
- Retargeting system built to use with our email platform, inbound traffic and website ( complete training included on usage ).
- Website hosted with link redirects for your approvals and platform direction
- Inbound traffic, we will send all kinds of traffic to your links that you have within the platform. There is not limit to how many visitors the system will send you, but the 6 months does apply to this too.
Full Earn Avenue Access
Access to Earn Avenue platform est. value $500+
With your purchase you will have exclusive access to Earn Avenue, which at this time isn't available to the public. Inside, you will find all kinds of my courses, training videos, tools, discount apps and much much more!
Addons and More...
PLUS Massive Bonus Package Worth Over $1,500
After Purchase Access Instantly 1 Hour Complete Business Breakdown - Inside this video you'll see exactly 100% what I do online.
"List Growth" -ListGrowth formula is based on creating "niche" and "active" email lists, within a budget. The formula forces you to explorer growth within your current abilities and information you have.
"Get Streaming Now" - Learn how to get streaming on all the social media platforms. You'll see how to short-cut the learning curve, see how to get massive results from it and how you profit from it too.
Get access to our secret resources, the ones we don't let people know we use. There is even more inside, you'll have to see for yourself.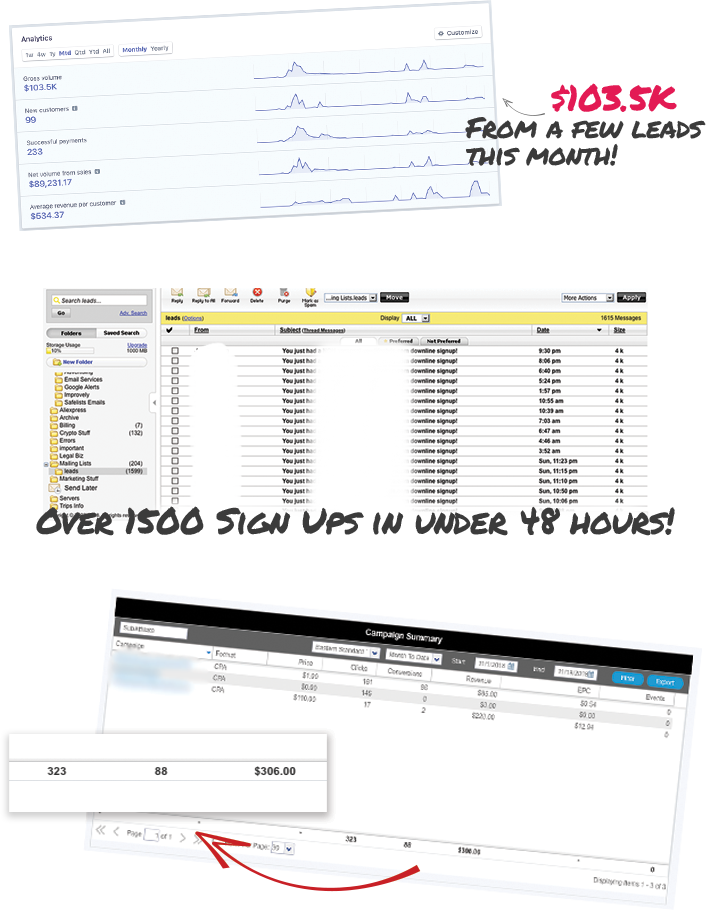 *SPECIAL PACKAGE*
ONLY AVAILABLE WITH THE PACKAGE CALLED "SPECIAL" BELOW! EXCLUSIVE SPECIAL PACKAGE WITH SPECIAL BONUSES!
• You will get everything that is included in our Semi-Dedicate package as listed above with Earn Avenue, EarnStack and Add-ons!
• One (1) Year of Sending without issues. Min ONE MILLION bulk email list to email. If you have a list from another purchase that is this big we will clean it up and refresh it. Account top-up and clean-up ( clean the lists etc and refresh them )
• We will renew your list until you see a min 40,000 openers on that active list to email. So, what this means is the team will watch your account and if your bulk opens don't keep adding to your opens list ( the active list ) we will make sure you get more subscribers to mail too. Note: This is not 40,000 people opening your emails, but rather that your second list that you build of people who have opened. This is will make more sense inside with the overview videos.
• BONUS If you take me up on this, you'll get access to the new system with built-in biz before it goes public and won't have to pay. So, when we launch anyone that joins pays you directly and you don't have to pass a sale up like everyone else will to qualify. ( it's going to be an awesome new program )
This package should be a min. $12,500 right now!
Scale
$2,500
$1,241
Regular $2,500 Value of Priceless
100,000 Subscribers List!
Buy Scale Now
No required additional fee(s).
---
This is a one-time payment for 100,000 subscribers and 90 days of sending ability on our email platform.
---
Need Payments? Click here
Builder
Premium Value
$3,995
$2,149
Regular $5000 Value of Priceless
250,000 Subscribers List!
Buy Builder Now
No required additional fee(s).
---
This is a one-time payment for 250,000 subscribers and 90 days of sending ability on our email platform.
---
Special Package
Save $11500 Today
$1,495
Reg. 12,995 and worth way more!
* Actual size of list may vary due to cleaning and bounces. You can expect a minimum Million subscribers!
use coupon code "getit" for discount
Pay Now!
Pay 50% Now and 50% later
No required additional fee(s).
---
This is a ONE-TIME payment which gives you an account with sending for 1 Year plus subscribers and all bonuses listed for the special package
The F.A.Q Section
What Is Klickboost and/or "Your Mailer" ?
Klickboost is the email platform that you will have access too for this amazing package.
Do you offer a refund ?
Due to the nature of this service, we do not offer a refund unless your account has not been created and/or accessed. When we mean "account" this means once YOU create your account, no refund is available. We are here to help, if there is issues with your purchase, service and/or account please contact us immediately.
Where do the leads come from ?
Well, first, please read and watch everything on this page. You'll learn that we drive traffic from an amazing amount of sources. All in which are without a doubt interested in buying something with these niches. Not limited too, but are "Internet Marketing", "Network Marketing", "Affiliate Marketing", and so on. Yes, they will convert on other offers too - just test and see what happens.
Will we get unsubscribers and bounces ?
Yes, without a doubt in my mind, this will in fact happen. Why - now that is the question everyone asks. First, people are interested in information, but once they get it - they could unsubscribe. People also join tons of email lists daily, for whatever reason they unsubscribe from those lists too. It happens. It's nothing new, which is why you should be always scaling your email lists. In terms of bounces, this is something that is completely out of your control and ours. My own emails bounce, that is being sent to myself. There is an infinite amount of reasons, I suggest you look at bounces and see if they are reasons. Contact us for more information or help.
Why buy this and not clicks ?
When you buy clicks you have to write an email swipe, send those clicks to your squeeze page and hope they convert into leads. Now you don't need to any of that. You're only paying for guaranteed leads on your list. Not clicks.

---