What Is Included With Fully-Managed Packages?
Private Email Manager System est. value $2,500
You will have full access to our "in-house" email marketing platform, which uses SMTP relays to send an email, unlike other in-house platforms that only send via hosting. Depending on the package you select, you will have a period for sending when that is complete, select a new package, or export the email subscribers. You will always have access to your account, which will provide the statics and all kinds of information about your subscribers.
We set no limits to the number of emails you can send, the only policy is that you have one email sending ( outgoing bound ) and one email pending. All based on the queue, don't worry you will be able to send enough emails that will generate an excellent amount of traffic to your sales pages and funnels.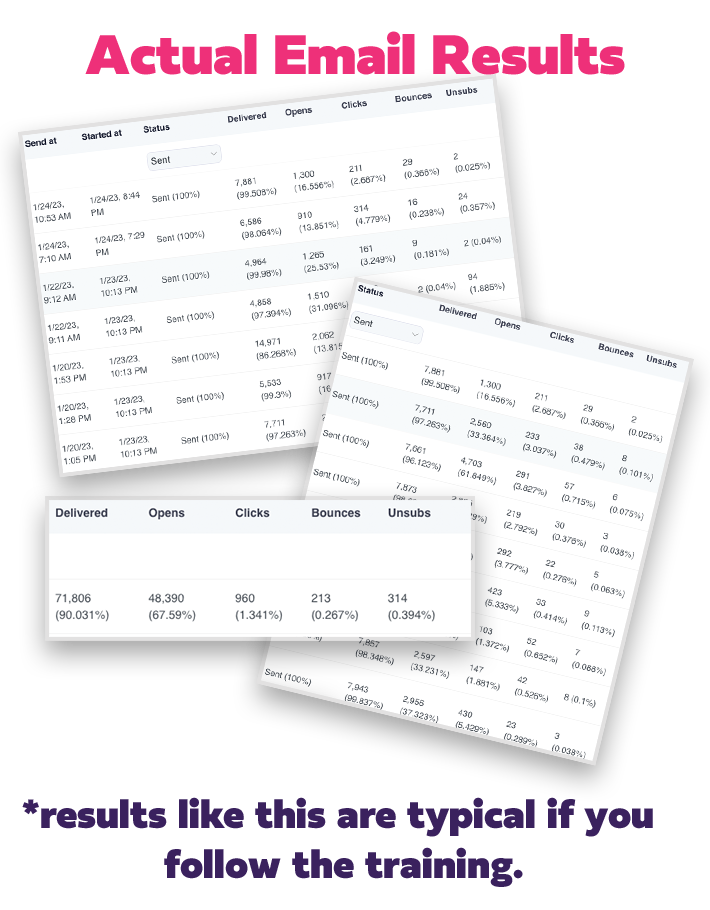 Ready-To-Email Subscribers est. cost $1.05 per subscriber
We will drive traffic through our systems, from premium top-tier sources. They will generate the subscribers, automatically add them to your account within our mail platform. The lead is vetted and cleaned within the system itself, before being sent to your email manager. These leads are 100% interested in your emails and want to receive them.
Additional Add-On No Charge: If we see that your list is not getting "decent" opens, we will refresh that list.
These subscribers will include Names, Emails, Phone # - Not all contacts will have these characters included, depends on how they came to us in a funnel.
These subscribers are interested in MMO, IM, BIZ OPP, WEIGHT LOSS and basically anything you can show them to buy.
Targeted within the TOP TIER CATEGORY but there will be fillers from outside those countries. ( USA,CAD,UK,NZ,AUS,ETC )
Templates and PreWritten Emails actual cost $500
We have created high-converting emails and tested them within the system. Our results have been amazing from them and we'd like to allow you access to them directly. Upon accessing the portal for application, you will have copy & paste access. Save yourself time and effort with these emails, just insert them with your links and send them out.
Access to Earn Avenue platform est. value $500+
With your purchase you will have exclusive access to Earn Avenue, which at this time isn't available to the public. Inside, you will find all kinds of my courses, training videos, tools, discount apps and much much more!
Fully Managed Service
Fully-Managed Services est. value $2,500+
We will manage your account for you, still having full access over the account but handled by us in-house. You tell us what you want to mail and we will do our best to get the max opens and clicks. This will remove any learning curves or stress you may find while trying to continue your online email marketing campaigns!
Fully-Managed accounts have a 90 day sending window, meaning you will have the ability to send email for up-to 90 days. We will also merge you openers into your other account if you have one. For example, if you have a self-managed account we will merge the openers into that account, given you the ability to send from that account too.
We create 2 lists, one for the main subscribers and one for the openers you can export these subscriber at anytime. You will also get our 30 day refresh policy, if the list is no good or looks to be non-responsive, it's replaced.
Due to the size of these Fully-Managed lists we allow for ONE bulk ( mass ) email to your list at a time or per week. This is not the openers, you can mail the openers as per our mailing policies. ( 1 sending, 1 pending at a time )
Add-ons and More...
PLUS Massive Bonus Package Worth Over $1,500
After Purchase Access Instantly 1 Hour Complete Business Breakdown - Inside this video you'll see exactly 100% what I do online.
"List Growth" -ListGrowth formula is based on creating "niche" and "active" email lists, within a budget. The formula forces you to explorer growth within your current abilities and information you have.
"Get Streaming Now" - Learn how to get streaming on all the social media platforms. You'll see how to short-cut the learning curve, see how to get massive results from it and how you profit from it too.
Get access to our secret resources, the ones we don't let people know we use. There is even more inside, you'll have to see for yourself.
Managed MailServer
Save $4250 Today
$1,250
Reg. 5,500 and worth way more!
200,000 New Subscribers, your managed package will include fresh email subscribers and our management services.
Select Package
Pay 50% Now and 50% later
No required additional fee(s).
---
One-Time Payment With 90 Sending and Fully Managed Services
Massive Subscribers
Premium Value
$11,500
$2,500
Regular $11,500 Value of Priceless
500,000 Subscribers List + everything listed + fully managed package
Get Package
No required additional fee(s).
---
500,000 subscribers and 90 days of sending ability on our email platform.
---
Easy Payment Option
Pay with 3 payments
Managed Million
Save $16495 Today
$3,500
Reg. 19,995 and worth way more!
1,000,000 New Subscribers, your managed package will include fresh email subscribers and our management services.
Select Package
No required additional fee(s).
---
One-Time Payment With 90 Sending and Fully Managed Services

Additional Payment Methods Available: Canadians can pay via eTransfer and we accept Bitcoin and Ethereum just contact support.

---